Lions in a Tree – You've Got to Be Kidding!
By Kay L Trotman
On a recent visit to Kenya, I experienced the beauty of a country that many people only dream about. Kenya, Africa! It was during the season of the long rains, but nonetheless, a time when the country's true beauty was evident. Trees reaching for the heavens against the bluest of skies and flowers blooming everywhere you turn. Corner nurseries filled with color and Kenyan hospitality ever present. This was Kenya!
Some Facts about Kenya, Africa
Capital: (and largest city) Nairobi
Official Languages: Swahili, English
Government: Semi-presidential Republic
Independence from the UK – Date Dec 12, 1963
Republic declared: Dec 12, 1964
Area: Total 580,367 sq km (224,080 sq mi)
Population: July 2008 estimate 37,953,840 – Feb 2007 census 31,138,735
Currency: Kenyan shilling (KES)
Climate: Tropical
Kenya has considerable land area of wildlife habitat, including the Masai Mara, where Blue Wildebeest and zebra participate in a large scale annual migration. Most notably up to 250,000 wildebeest perish each year in the long hard movement of over a million wildebeest to find forage in the dry season.
The "Big Five" animals of Africa can also be found in Kenya: the lion, leopard, buffalo, rhinoceros and elephant. There is a significant population of other wild animals, reptiles and birds that can be found in national parks and game reserves in the country. The environment of Kenya is threatened by high population growth and its side effects. Since Kenya does have such natural wonders and wild animals tourism is a large industry in Kenya.
Game Viewing was at its very best on this trip. I saw a sight that will stay with me forever. Just outside of Serian Tented Camp, we spent hours looking amongst the tall grasses of the plains for lions. We knew they were around, they almost always are. But they seemed to be eluding us on this day. Someone at the camp had told us they saw some lions in a tree. What did they mean? We were soon to find out. No one, not even the guides or drivers had heard of such a thing.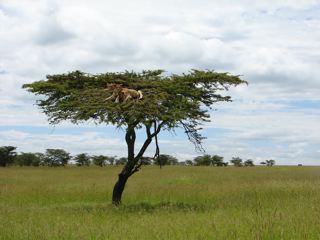 I'm not kidding! Those are lions in the tree.

As we were headed back to camp after hours of game viewing, the driver stopped and pointed to a rather small acacia tree in the distance. As we looked, we could make out some golden color on the trees, but it wasn't until we drove closer that we could appreciate the magnitude of what was before us.
There were four lions in one tree and four in another, including the matriarch of the pride. This was just too cute and too unbelievable! How could this be? What are they doing up there and how did they get up there? We were so engrossed, we must have watched those lions for hours on end taking mountains of pictures, and returned later in the evening for more!
Our reward for sticking around so long was to see the mother lion come down the tree, slowly and carefully. What an amazing sight! The others decided they needed more sleep and off they dozed after becoming tired of posing for us!
Obviously, this is an uncommon occurrence in the Mara or even in Africa, and we may never see it again, but am I glad, on this day, we were in the right place at the right time. As I reread my account now, some two years later and maybe four or five trips back to Africa on various safaris I have yet to see the same amazing sight of lions up in a tree.
Don't believe it if someone tells you to climb a tree to escape being prey to a lion. You may be sorry!
Copyright © SafariKay.com