HOW AFRICA CHOSE ME!
'THE IMPACT TANZANIA HAS HAD ON MY LIFE'!
By 'Safari' Kay L Trotman
Many continue to ask me how I choose to specialize in Africa. Those who know me, know that I didn't choose Africa, and are keenly aware that Africa chose me. From 2002 through 2004, there were dramatic changes that impacted my life and my journey. I went from a jovial, upbeat and determined lady to being depressed, sad, and unable to cope with life in a meaningful way.
My life changed in the short span of three years. It changed for several reasons, but the emotions of those times is not something so easily shared.
I'd lost my mom in 2002 and was feeling terribly lonely. Still in a sorrowful state, in 2003, I was broadsided by a drunk driver, severely incapacitated with what I didn't know then, but know now, life long injuries. In early 2004 my life changed again when my younger brother suddenly passed out and died two days later.
Still recovering from all the trauma and tragedy, once again – a life changing event.
Just six short months later, my second youngest brother would die in much the same way. I was already lost but his death, the brother that had helped me through the first brother's death, simply sent me over the edge and I was unable to cope. I lived each day in such a depressed state, I didn't see any future, I wasn't even sure I wanted one. This was so totally unlike me, but unless you've lived it, you can't know it. I look now at some who have had tragic experiences and how it has impacted their life, and then remember what I went through. We all respond differently, and we never know how we will be affected.
In making the decision to open my own agency with a girlfriend of mine, I was again devastated when she suddenly passed away at my house during a presentation. It was a setback, and yet again, represented both a step backward and a step forward. It was a bitter reminder, that there is no promise of a tomorrow, so if we want to do something, we should do it and not put it off.
For a time, I lost myself, my faith, and my will to move forward. It wasn't how I wanted it to be or what I wanted, but I could hardly stop my life from spiraling downward. I felt totally helpless! I sought help but nothing really helped me. I wanted comfort but no one could comfort me. I woke up each morning in darkness, and though there was light outside, it never shined within, until one morning, I really woke up. I wanted to feel alive again, I needed that. I didn't want to spend my days in tears, I wanted to live for my brothers who didn't have that opportunity.
For them, who I loved so much, I did not want to spend the rest of my life in this state, whatever life I had left. I chose life for myself, my surviving brother, my son and my family. Those that passed before me would not want to see me give up, no matter what! So, I made a decision to change my environment – to get away, as far from home as I could. A trip to Tanzania was the catalyst that changed my life – forever.
I didn't know it initially, but I rediscovered myself and ignited a new passion that would give me a foundation to move forward, to share this passion, with others! It was this journey that would ultimately save my life. It changed from living to die to dying to live with one emotionally charged trip. It was as if those Tanzanians looked inside my heart and saw it was breaking, and reached out their hand to gently heal it.
It was, I'm sure, the hand of a power much greater than myself! Everyone has a story. This is mine, now what will yours be?
Tanzania is a place that I would love for everyone to experience. It is not solely about the wildlife. It is all encompassing, the wildlife, the people, the culture, the children. I hope you will be part of that journey, so you too can experience it. It may awaken your soul too.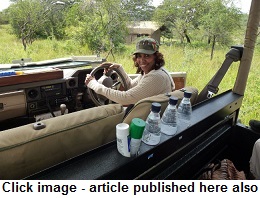 It is, for sure, a journey where you too, can write your own story, have your own experiences. There is something spiritual, something magical about Tanzania, quite difficult to articulate. You will know that after you step out on faith and go! Then, let's see if you can articulate it! Hear more here…http://findyourselfinafrica.com!