The following is taken directly from an email to Safari Kay from Kenneth, one of those on the recent Tanzania safari.
Hello Kay,
I want to first say that I am a avid admirer of nature and animals but what I experienced in Tanzania was nothing like I could have ever imagined. I went into this journey looking to have a great time, instead I had the best time of my life. A week later and I am still in awe of what transpired on our fearless journey into the bush. I say fearless with a little reservation because of the visitors I had on two consecutive nights at our stay in the mobile tent camp in the Serengeti.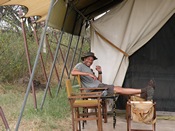 .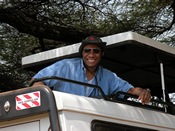 My first guess were Hippo's who woke us up at around 3:00 a.m. Their loud breathing and chopping at the grass startled us because at the time we did not know what was outside of our tent. The second evening was a little more freighting but poa (cool). This time we were awaken by Hyenas who were rubbing their bodies against our tent and laughing, which is their way of communicating. I even saw 3 sets of red eyes glowing through the canvas of our tent. The 3 or more Hyenas were outside of our tent for awhile until I heard a lions powerful roar from somewhere out into the beautiful night of the Serengeti.From Arusha, Lake Manyara, Ngorongoro Crater and to the balloon ride over the Serengeti, this was a once in a life time experience that I will hold on to and cherish for the rest of my life. Or better yet until, "I GO BACK TO AFRICA AND DO IT ALL OVER AGAIN".
Thank you Kay for sharing this wonderful adventure with us, how can one not have a better appreciation for LIFE……………………….
Kenneth E. Golden, President
Golden West Intermodal, Inc.
OFC: 213-623-2024
CEL: 213-494-7801

Related Sites [Computer Generated]