The following is taken directly from an email to Safari Kay from Marsha, one of those on the recent Tanzania safari.
Our safari trip in Tanzania this year was the best ever…even though I've only been twice…so far!! Each time I have thoroughly enjoyed the Lake Manyara night game drive and our two day game drives in the Ngorogoron Crater, but I think my favorite this year had to be the CC Africa mobile tented camps in the Serengeti.
Wow, what an awesome experience! Not only did we get to intermingle, day and night, with Africa's wildlife in their natural surroundings but we experienced it in luxury at the same time. We had the best food and tented accommodations, the best personalized service, and Frank, was the friendliest, most informative driver! And what a feeling to see gazelles run through our camp first thing in the morning, and then look up to see them being chased by a hyena! I wish we could have seen if that ended in a kill! Without a doubt, I think the mobile tents have to be scheduled into my next trip!!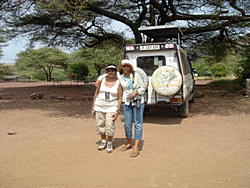 But I would be amiss if I didn't mention Bushbuck Safari Tours, as they have done an excellent job in providing us with the best game drives in both of my trips. Having Fabien as our driver again this year was a real plus because he wasn't going to be satisfied until he found us a Leopard that we missed viewing last year. And boy, did we get a good close up viewing this year….cooling out in a tree with two gazelles he had previously killed! That's a picture that I'll forever have in my head, but I've got photos and a video as well.
I never considered myself an adventurer or a nature lover, but I'm so glad you convinced me that this was an experience of a lifetime that I shouldn't miss! Africa is now in my soul and I'll be back…again!