Notes from Kenya Africa – Sept 2013 pt. 2
September 6, 2013 continued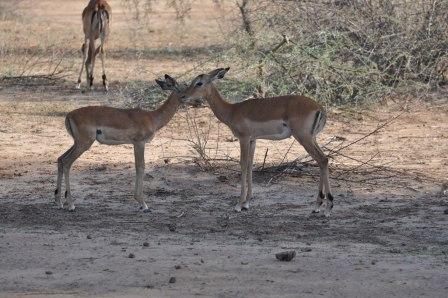 First stop: Nairobi Tented Camp located ten minutes into the heart of Nairobi. That's right, a National Park just within the confines of the city, but surrounded by sufficient bush, that the animals don't and can't leave the area. It is probably the one park that is gated, though you can only see the entry gate.
En route, a huge buffalo decides he wants part of the road, so we give it to him, and make our way amongst all the African rabbits along the way. I arrive greeted by warm staff and hot hand towels to sooth the cold hands and face. They did not know whether I would be hungry, so they have prepared some soup for me, just in case. I don't eat much soup at home, but it is a must have in Africa. I didn't know things could be so ground up as to make delicious soup. It was a very chilly night…so before retiring, we head for our bush TV….that's lingo our campfire and talk about the events of the day.
Nairobi Tented Camp (NTC) is a basic small rustic camp, and the only camp situated in Nairobi National Camp. It consists of 8 tents strategically placed for maximum comfort and privacy . There is a family room, consisting of two tents spaced immediately adjacent to each other, which is very good for keeping a family close without sharing a tent. Otherwise, all tents are exactly the same.
It is a very basic tented camp, but with all the creature comforts, warm, comfy bed, flush toilet, bucket shower, and LIGHT. Many camps are quite dark, and in the daytime this would be too, as it would not be on the generator, but evenings are quite nice, well lit. Careful, the toilet sits on a wood block, so don't trip or stub your toe, if you must get up in the middle of the night.
Listening to the loud cries of the small bush baby, you could not imagine those sounds coming from such a small creature. That, coupled with the almost blood curdling screams of the tree hyrax, would almost make you want to call 911. But it is precisely these sounds that make you realize you are in the bush, and once you know what the sounds at, you are once again lulled to sleep with a good nights rest. Though there are many animals in Nairobi National Park, there are no sounds of lions unfortunately. Ahhhhh, the sounds of Africa.
Wide awake with the birds at 5:45 am and the sound of Jambo, (Hello, good morning), my morning begins with our tent attendant bringing hot chocolate (with a bit of Amarula as I requested) for that morning 'get up and go' wake up call. Normally, I would go on a game drive about this time but this morning, I have business to tend to, like this blog and several meetings. The morning is quite cool, , actually downright cold, necessitating changing from short pants to long ones.
I find out that last evening, there was a rhino poached….to drive home the point….see it now, before it all disappears. SAD.
After securing the zippers on the tent, I am safely tucked in with my small torch, (flashlight), whistle for emergencies, DOOM for any creepy crawlers, which I happily note, there were none, Cinabar Organic products in the bath, shampoo, body wash, and lotion. It is quite cold….and I am packed for California weather….I realize I only brought my Victoria Secret long t-shirt, but the secret's on me….its damn cold, so don't forget your jammies my friends, cute does not always cut it in the bush, even as fashionable as you might like to be.
So, because its cold, I go to grab my socks…..and while most of you would think I am a seasoned packer, packing months ahead of time to ensure I do not forget anything, you may be surprised to find out that, the season is OVER…. the socks I went to grab, are still sitting at home, along with my scarf, my gloves, my umbrella, essential items for a safari.
Make a note, go over your safari list several times before you actually depart. And no matter how much you think of Africa as being hot, be prepared, these are must have items. I know that, but even the most seasoned traveler sometimes forgets the season. I just packed and re packed so many times, with items to bring everybody, I neglected to repack those items once they came out.
On the other hand, I never forget my hats, oh no, hats are always the first to go in the suitcase. gotta protect that hair, right ladies. I will make do, I am flexible, why….because TIA, This Is Africa!!! I have one pair of socks that I wrapped something in and will either wash those out…or find a store in town to supplement.
To be continued…