Notes from Kenya Africa – Sept 2013 pt. 4
September 7, 2013 continued
Day 2 September 7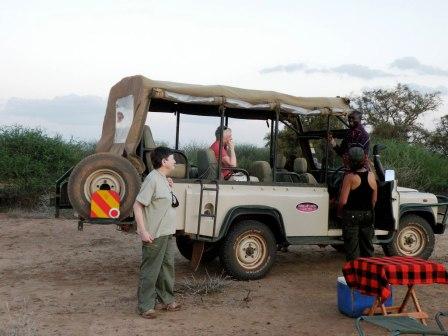 6:00 am, hot chocolate call…..6:30 am, game drive starts. New friends from Kenya and I head out on safari to see what we could see. This was their first safari, even though they live in Kenya. She is a medical doctor and he is in Communications, both anxious to come to America to see what it is all about. Our game drive begins with a huge herd of buffalo, who have decided they want to take over the road. Naturally they have the right of way. this followed by a large her of 60+ eland, and that followed by a pride of eight lions who had taken advantage of a lone huge buffalo who had come down to drink from the ravine, unfortunately for him. It was five hours of wildlife sightings, a very good day, for someone's first safari.
We head back to camp, for a late breakfast and quick packing and onto the next adventure. This next adventure takes me to WORK, where I spend the day doing what many travel agents dislike, going from one hotel to another, doing site inspections. It's a little different in Africa or in a country where you specialize, you want to see them, you need to see them. on this trip, i find some that I thought I might use to be not ones I would consider, and others I thought I might not consider, to be ones I would consider. So, as it turns out, its a good thing. Nairobi has a number of newer hotels that I needed to see to determine the suitability for future groups. It was an exhausting day…..walking up and down flights of steps, inspecting all the different room categories, gyms, spas, pools, bars, and non-stop talking, walking the grounds and negotiating. I don't always have an opportunity to see every single property I book, in every single country or area, but when possible, I do. This allows me to know exactly what my guests will experience.
A long day comes to a end at the band new Hemingways in Karen, just outside of Nairobi. less than a year old, it is an exquisite property, see posted photos. Every suite is themed, I am in the Kenyatta suite, named after Kenya's first President, 1964-1978, the founding father of Kenya. Similar to South Africa and other countries, speaking out against the ruling party could get you thrown in jail. That is precisely what happened, he was accused of being part of the opposition party, who supported radical anti-colonial movements, so he was imprisoned 1952 to 1959. After his release, he became prime minister and who fought for independent from British rule in 1963…and in 1964, he became President.
Rooms here come with your own personal butler, who will iron, wash, notify you when dinner, or meals are ready or if closing, make sure your room is cleaned, draw your bath, make you feel special in every way. The rooms themselves are quite nice, meeting all of your needs, coupled with beautiful grounds. But the day was long, time flew by and before you knew it, midnight came and went, so lets catch up tomorrow.
Day 3 September 8, 2013
Kick back day…..Late breakfast at 9:30 am…work to catch up on, then a site inspection of this property, lunch with old friends, early dinner, drinks with new friends and off to bed ready to head to Tanzania early in the morning.
Day 4 September 10, 2013
Leave early for airport, as traffic is about like rush hour in California……more than an hour to go the distance of what should be ten minutes. Of course on this day, there is no traffic delay, but there is a flight delay.
After about an hours delay, we finally take off on a short 55 minute flight and I am met by my trusted driver upon arrival in Tanzania. We head to Arusha Safari Lodge, a quaint little bed and breakfast, on sprawling grounds. Sometimes to make a safari budget work, different standards of properties must be used, so the properties you want to be included, can be. This is one of those properties, originally built as a polo club, and now showing the signs of age, and slowly being upgraded by the lovely couple who run it, Alex and Rebecca. They will go out of their way to assist and tend to your needs. Basic but managers and owners can really make a difference in your stay, and Rebecca has, for sure.
September 11, 2013
Out early to pick up drinks for the next coming days while on safari, then off to spend the day with The O'Neals (A Panther in Africa, look it up, a documentary). Spent a Wonderful day with the kids, Pete and Charlotte. This organization is my Operation Backpack in Tanzania.
Back in time for a lovely and delicious dinner, and in for the evening. Off on safari tomorrow.
To be continued…