Notes from Kenya Africa – Sept 2013 pt. 5
September 7-14, 2013 continued
September 12, 2013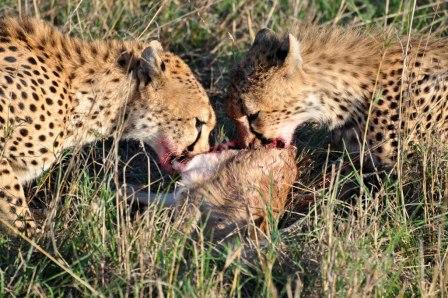 8:30 am…..off on road transfer to Tarangire and Maramboi property. Brief safari, as Maramboi is only for walking salaries, so no game drives. The property itself is a nice 4-star experience, but most first timers would not want to or feel comfortable doing a walking safari….
September 13, 2013
8:30, nice three hour drive to inspect first property, Tloma, then Kitela, then Farmhouse where I am to say overnight.
Comments….
Tloma is beautiful grounds, nice eating and dining areas, with massages, pedicures and manicures available. produces its own organic vegetables, coffee, and bananas. Secures and safe, with Askaris (guards). Drinks are an additional charge. All rooms are the same.
Kitela is a four star property, but looks very much like a five star experience. The lobby area is phenomenal, the view overlooking the Rift Valley, is picturesque, the rooms are spacious, with seating area, plus a nice verandah. All rooms are the same. Well guarded, secure, and best of all, it is all inclusive. great property for Lake Manyara visit and Ngorongoro Crater.
September 14, 2013, now off to the Serengeti. Hopefully, will have some brief connection, for some wonderful wildlife photos over the next few days. Stay with me, even thought the connection is intermittent
To be continued…