Profile on Travel – The Vicki Addendum
Let me re-introduce you to Vicki, a great and exceptional traveler and
friend!  On a previous blog, http://destined-to-travel.com/frequent-traveling-companions/, I introduced you to Vicki, who had traveled with Destined To Travel on many different safaris. I'd like to update you on what happened since that last blog in 2014.
Vicki has traveled on several other safaris, including my seven-year in business anniversary in Tanzania in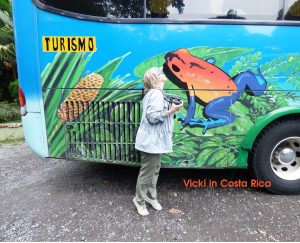 February 2015. What a wonderful, wonderful travel experience that was. As it turned out, it was two carloads of women, talk about what goes on, on safari, stays on safari. Truer words were never spoken. I will never tell! It was an awesome adventure!
Just after the seven-year anniversary, Vicki joined us in She's traveled with our Scotland/Ireland group and prior to that she and I had traveled to Ireland..  Then it was Costa Rica with a fabulous group of travelers. Despite the fact that she may look great in our river rafting experience, it was one of the most harrowing experiences we've shared.  Neither of us are particularly water friendly, but our wonderful adventurers with us convinced us that we should absolutely experience this.  We fell for it!  But never again!  We can look back now and say 'we survived it'. Where's our  t-shirt tauting our survival of that journey?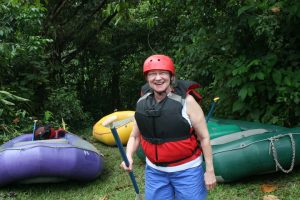 In November 2015, came another phenomenal adventure. Vicki was able to convince her friend of over 40 years that yes, a safari was definitely worth taking, despite all her object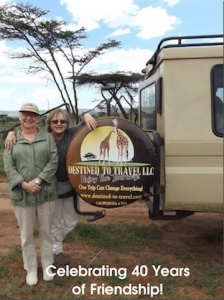 ions over the years about travel to Africa. She had just about talked herself and her husband out of this experience.  At some point I stepped in and provided
input on why I thought she should go on that trip and what she would miss if she didn't go. Fortunately, she and her husband went and it was a touching reunion of two college friends who hadn't seen each other in over 40 years but had always kept in touch. That was an awesome, awesome experience. Their testimonial, their accolades from that trip were mind blowing, and made my drivers, and myself feel really special. Knowing that it would be their first and last trip to Africa, they were so glad Vicki (and I to some extent) talked them into going. What happened after that was simply amazing! They've now signed on for the ten-year anniversary trip in September 2018 and we can't wait to all get back together again.
Vicki will again be joining us on an upcoming Botswana safari; and a safari in Tanzania, May 2017, as well as a celebration of ten years of my business in 2018 in Kenya and Tanzania. One thing you can depend on with Vicki present, you'll always be kept in stitches, and you'll always have fun. She is an unbelievable fun loving traveler, flexible, and appreciative of every opportunity in front of her, filled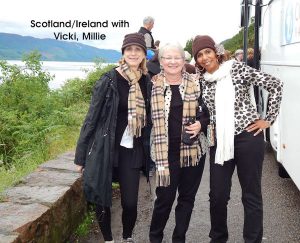 with joy, excitement and friendship. I simply love having her along on any trip – doesn't matter where. We have become friends, who welcome and enjoy our opportunities to travel together.
And, wait for it!!! She's about to join us again on a Botswana safari in January 2017, where we will experience the Kahalari Desert, the Okavango Delta, and Chobe National Park, three of the top areas in Botswana. We can't wait!