Lauren and Carmelo MAKING A DIFFERENCE
By Safari Kay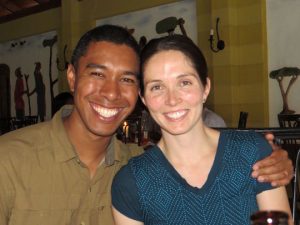 Let me introduce you to Carmelo and Lauren. They are my nephew and my niece.
Here's their story: They live in Colorado, they married in California in October 2013, they honeymooned in Kenya and Tanzania, in December 2013 along with six other family members. The trip was arranged by 'Safari' Kay, Owner and President of Destined To Travel, LLC.
I want to profile them because there are so many people who think that one has to be 'old', 'rich', or very well off to afford to go on a safari. That is certainly not true.  Carmelo and Lauren are indicative of two young people (in their thirties), who simply decided that they wanted to go on an Africa safari, and later decided after that first trip that they wanted to be instrumental in helping change the lives of the children they met on that first trip. Three years later, they made it happen. Their first trip was about a year and a half in the planning, during which time, they saved and made payments as did everyone else. It was the perfect time for family to join them on this momentous occasion and with their blessing, six other family members participated on this journey.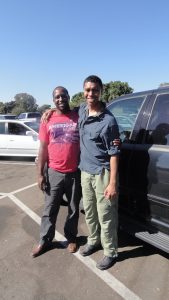 Carmelo had met Paul the year prior when Paul, the driver for Destined To Travel was in the USA visiting friends. Carmelo and he immediately connected, and spent a lot of time together in California, along with Carmelo's dad, my brother. They showed Paul the sights and sounds of California, and were joined by another niece and nephew in doing so. They discussed going to Tanzania, but at the time, I don't think I knew there was a wedding in the future and I didn't know the trip to Tanzania would be the honeymoon. What a blessing to find out later that we would all get to spend some time with them on their 'honeymoon'.  How great it was for all of us to travel on this journey with them.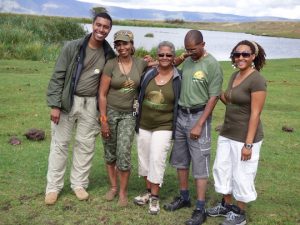 We joined together as cousins, as brother and sister, sister and sister, mom and dad, to enjoy and share in this memorable time. I encounter many young people, maybe just starting out, maybe already into their careers, maybe already with families of their own, who say to me, they can't do it, and my answer is always the same, if you make the commitment to go, you can do it. It doesn't have to be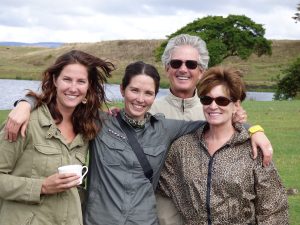 tomorrow, or even next year, set your goals and make it happen. So even though they are relatives, don't think it was easy for all of them to just pick up and go. No, it took planning and time, but eventually, it all came together.
The most fascinating part though is that after their visit in 2013, they had decided that they wanted to return to share and work with the children of the school Destined To Travel supports, the Leaders of Tomorrow Children's home. The moment I announced that trip, they signed up. That trip was in February 2016 and the experience was mind blowing.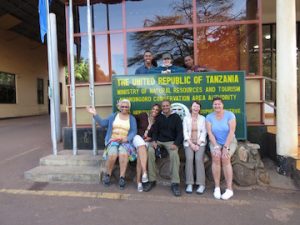 Together with four others, they all joined together to work with the children, share their life stories, their talents, skills and abilities. Lauren took the lead on that experience, by organizing all of the activities with Pete O'Neal, owner and director of the school. We wanted to make it fun and easy, not a lot of schedules, not a lot of formalities, just the love of two countries coming together as one – a little poetry in motion.
That poetry was in the form of fitness training brought to you by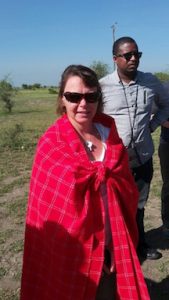 Stephanie, fitness trainer in Denver, Colorado. Stephanie is a certified personal trainer at Fit Chick Express and a public educator at Boulder Rural Fire Rescue.  If you're in the area, check out one of her classes. Not only did Stephanie have the kids up and moving, but she got Pete out of his chair and moving as well.  This is the kind of fun you'll experience once you sign up for this Make A Difference trip. You can see the photos and read more about all the fun and different skills we had here. and read Lauren's own account of her fabulous experience here.
Lauren and Carmelo's commitment extended way beyond this being just another trip, they were interactive with the kids and everyone else. They enjoyed it so much that they are again joining the May 2017 Make A Difference safari, where they will once again open their hearts and mind to sharing and helping the children who are blessed to be at The Leaders of Tomorrow Children's Home.
You can't mention the children's home without mentioning Dr. Lauren, who is a Professional Certified Rolfer (structural integration and physical manipulation of the body) as the kids and Pete so affectionately call her. And Carmelo with his computer enigma of a mind thrilled the kids with some of the flight, space and aerodynamic programs he had for them on the 24 donated tablets that another guest had organized. That story about how that came about is coming soon.
The moral of this story is if you want to find a reason not to travel, whether to Africa or any other destination, you will. If you want to make it happen, you can.
Stay tuned for the post May 2017 Make A Difference Trip adventure. Personally, I can't wait!
If you'd like to find out more about our upcoming safaris, please visit my website at destined-to-travel.com.